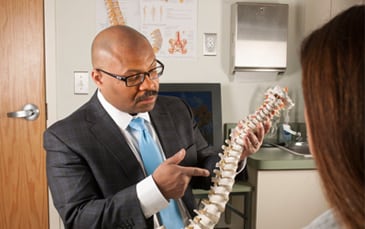 Patrick B. Senatus, M.D., PH.D.
About Patrick Senatus, MD (click to view)
Dr. Senatus is a board certified Neurosurgeon with extensive experience in minimally invasive and restorative spine surgery. He has lectured nationally on minimally invasive surgery and participates actively in the design of the next generation of minimally invasive surgery systems. Dr. Senatus is fellow of the American Association of Neurological Surgeons and the American College of Surgeons.
Dr. Senatus attended Harvard College where he was recognized as a Harvard College and John Harvard Scholar and graduated Magna Cum Laude with a Bachelor of Art in Biochemical Sciences. As a medical scientist training program scholar he completed his Doctorate of Medicine at Harvard Medical School and his Doctorate of Philosophy in Neurobiology at the Harvard Graduate School of Arts and Sciences.
In 2006, Dr. Senatus completed Neurosurgery Residency at Columbia Presbyterian Medical Center where he was nominated for the Arnold P. Gold and Physician of the year awards, recognizing him for excellence in teaching and patient care. Subsequently, he completed a fellowship at the Cleveland Clinic in Functional and Restorative Neurosurgery of the spine and brain.
Dr. Senatus holds several academic appointments, including Assistant Clinical Professor of Neurological Surgery at Yale School of Medicine, were he enjoys sharing his expertise with residents and medical students. He has authored numerous scientific abstracts, peer-reviewed publications and clinical text book chapters.
Dr. Senatus is happily married, and has two beautiful children. He enjoys golf, chess, classical music, outdoor activities and most of all spending time with his family and friends.
Our Philosophy
Dr. Senatus employs a personalized patient-centered approach that prioritizes optimum functional outcome and well-being. Each consultation begins with a comprehensive evaluation by Dr. Senatus designed to create an individualized evidence based treatment plan which includes the patient, family, and collaborating providers.
Following a conservative treatment philosophy, Dr. Senatus offers his patients a solution, using the most advanced minimally invasive procedures. His approach is to perform the most effective and least invasive intervention available, specifically tailored to each patient, guided by the principal that surgical options be considered only after all reasonable non-operative therapies have been exhausted. Returning his patients to a functional pain free lifestyle is the ultimate objective.
Recognized for his leadership in patient quality and care, Dr. Senatus has improved the quality of life for his patients and their families.
Dr. Senatus Affiliations & Awards

Contact Us Today For Appointments!