Read Testimonials From Our Patients
Testimonial by Radoyka Jerome (Click to read)
I didn't get into working out until 3 years ago when I lost my father. My therapy was constantly working out and running. Fast forward to a few months ago when I had to cancel running the NYC marathon due to disc degeneration and herniation. I was devastated but Dr. Senatus educated me on what the risks were with my condition. Because of his calm demeanor, bedside manner and expertise I decided to go ahead with a one level lumbar fusion. I am now 7 weeks post surgery and can actually feel my foot. And though I feel I didn't prepare myself for the recovery process, Dr. Senatus continues to be there for me and my family every step of the way. I will continue praising him as a doctor and as a person. And will recommend him to anyone who listens.
Testimonial by John R. (Click to read)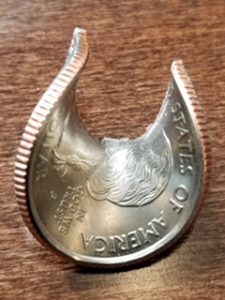 I would like to give you a brief history of me. I am a 54 year old male. I have a wonderful wife that is a med/surgical nurse and 2 adult sons. I am part owner of a manufacturing company, a 30 year firearms instructor both civilian and law enforcement, a gunsmith and a law enforcement officer.
5 years ago I started to get a tingling in my pointer finger on both hands. It progressed to tingling on both hands 2nd to 4th finger. Then tragic struck,  all of those fingers went numb.  My primary sent me to see Dr. Senatus. My wife had many of Dr. Senatus's patients post-op, so she knew of the great results that they had. Dr. Senatus had me go through some tests and came to the conclusion that I had severe spinal stenosis in my neck causing my fingers on both hands to go numb. This is not great news when your livelihood is literally in your hands. I had to postpone my firearms instruction courses. I could not take in a firearm to work on and I had to take a leave in my law enforcement duties.
2 years ago December I went in for surgery with Dr. Senatus and his staff. He operated on me, removing the outer bone of C2-C6. Cleaned out the stenosis, put in screws and rods to hold everything together. It was not the best of surgeries I ever had but it needed to be done. I had to get the feeling and function back to my fingers. Within 3-5 days I could feel the sensation coming back in those fingers. In 2-3 months I had all feeling back.
I had not touched a firearm in 6-7 months and was very unsure if I could shoot one ever again. I started slowly with small caliber working up to my normal .45. I am shooting, repairing, instructing, and back part time to law enforcement. I can only thank Dr. Senatus, Sharon Tokarz PA, and his entire staff for giving me back my passion. I saw Dr. Senatus last week and showed him what I keep in my pocket for good luck. This is a picture of a quarter I shot at 15 yards, outside, 35 degrees, with a stock .45 cal. firearm with ball ammunition. I didn't hit it on the first shot, but did on the 2nd.
Thank you Dr Senatus, Sharon Tokarz PA and staff
Testimonial by Bonnie (Click to read)
When I found that I needed surgery on my cervical disk, there was no hesitation. Only one man was going to perform it. I traveled over 1,200 miles to return to the doctor who had healed my lumbar spine. Dr. Senatus and his office staff is like no other. He treats you like a family member, not a number in the assembly line. His staff is always polite and caring. I spent 30 years in the medical field so I have a little experience identifying the good from the bad. Dr. Senatus is in a league of his own. Bedside manner that is not rushed, hands that are guided by God and hugs that calm even the most nervous patient. Praying that I don't ever need surgery again but if I do then there is only one option for the surgeon, Dr. Patrick Senatus.
Testimonial by Sonia (Click to read)
As a patient of Dr. Senatus, I can describe my entire experience in one word; outstanding! Prior to meeting with Dr. Senatus, I researched my condition in detail. My family and I met with three neuro- surgeons between November 2016 and January 2017. Each one had a variety of ideas on how to resolve my pain management regimen or resolve my chronic long-term issue through extensive surgery.
At first, I was leery about the idea of surgery but I suffered day in and day out with normal routine activities that I knew I had to make a decision soon in order to have some normalcy. I walked with a wobble rather than a straight line to support the excruciating pain and discomfort I felt every day. As I said previously, I met with three neurosurgeons, Dr. Senatus was the only one who had a concrete idea on how to solve the spinal stenosis, herniated and bulging discs plus spondylolisthesis which caused deformity of my spine. Although, it took several months for me to make a decision due to "fear", I can happily say that Spinal Fusion was successfully implemented on Friday, May 5, 2017.
At this time, my only regret is waiting so long to complete all the requirements for my aforementioned successful surgery. Currently, I am still recuperating and beautifully, I might add. I experience no pain or discomfort. A special token of gratitude and appreciation to God and the brilliant minds of Dr. Senatus and his team. Dr. Senatus and his team were amazing in each and every way.
God Bless them all!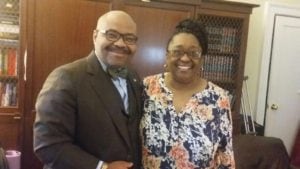 Testimonial by Jose G. (Click to Read)
Had lower back fusion done September 2016 with Dr. Senatus. From the day we first met, he has been the most professional, caring and thoughtful individual I have dealt with in quite a few years. His knowledge and ability to explain your situation is uncanny.
Since my surgery, my life has improved immensely. I recommend Dr. Senatus to anyone having back issues. I tried injections, therapy and a number of things before going for surgery. Treating with Dr. Senatus is by far my best decision and the one that has worked best. Thank you so much doctor from me and my family. You are wonderful.
Testimonial by Jackie A. (Click to Read)
I discovered 3 years ago that I had 6 herniations in my cervical spine along with bone spurs and severe cervical myelopathy. I had seen a number of Neurosurgeons who had told me there was nothing they could do, some refused surgery all together and some suggested surgery but could not promise any improvement. I had 1 discectomy on C6-C7 in 2014 that made no improvement.
I was referred to Dr. Senatus by a colleague of my husband. When I first met Dr. Senatus at the end of 2016 he immediately he told me he could help. Just hearing this after being in agony for 3 years was almost unbelievable! Dr. Senatus is a really lovely, kind man. He explains everything so that as a patient you have a full understanding of what he plans to do and what the outcome will be. Dee who works as his patient coordinator is an angel, she is so helpful and stays in regular contact and will answer any and all of your regular or random questions!
Today is 4 weeks since my anterior cervical triple fusion C3-C4, C4-C5, C5-C6 at Sinai/Roosevelt and already I feel so much better. I am already on way less painkillers, I had other top NYC Neurosurgeons telling me I would spent the rest of my life managing my pain with opiates!!
I feel so lucky to have been introduced to Dr. Senatus, he has already changed my life! I would highly recommend him to anyone with back or neck issues. I may need further surgeries in the future on other discs, I will without a doubt only go to Dr. Senatus.
Testimonial by Stephanie R. (Click To Read)
One day I woke up with a dull persistent pain in my neck. I tried stretching, going to the gym, and my last attempt was having my husband use a massager on the area. Immediately the pain became excruciating. I remember being unable to sleep and so I sought out medical attention. I initially visited a chiropractor, after that didn't remedy my pain I then underwent physical therapy and steroid injections. The diagnoses from my MRI was a C5-C6 herniated disk. Not having any knowledge as to what this was I quickly referred to google (My best friend). No way am I extremely religious but when I say I prayed like I never did before, I was seeking answers to all the questions I had. My quick developing paranoia on the mere fact of possibly having surgery had me researching all night. I then began to find the answers I so wanted. Such as, was surgery necessary for me? What type of procedure would I prefer? And what doctor do I trust to operate on me? After finding the exact procedure I was looking for which is the Mobi-C disk replacement after watching a video on YouTube, I then needed a doctor who performs it. I finally after 2 months found Dr. Senatus. When I say, he is a God's gift to medicine there doesn't get any better. I made the appointment not knowing if he uses this particular device and it just so happens he was just about to introduce it to his facility. Coincidence, right? Two weeks' post-surgery I was completely off of pain meds and 3 months after that I was back to work. The bonus: My husband and I was having infertility issues for years. I had surgery in Dec 2016 and by Jan 2017 my husband and I conceived and I'm now over 3 months pregnant. I know that without this successful surgery done through the loving and professional hands of Dr. Senatus and his dedicated staff who no matter how busy they are, are always pleasant and hospitable I wouldn't be pregnant now. You can always tell by someone's staff how your experience will be. His assistant Dee stayed in constant contact with me pre-surgery, always making me feel like I'm not alone in this. I'm so pleased that I had this surgery and I know I wouldn't be where I am today without it.
-Stephanie R
Testimonial by Wayne W. (Click To Read)
The experience that I, my wife Denise, and the entire family had with Dr. Patrick Senatus, his entire Staff, from the very first office consultation, up to and throughout the surgical procedure, including his team of professionals at Mount Sinai West Hospital, was nothing less than an incredible blessing! My wife Denise had been suffering from degenerative disc disease for quite some time. Denise's primary care physician had recommended Dr. Patrick Senatus as a second opinion consultation. We were so happy that we had the second opinion consultation. Dr. Senatus made us feel so at ease. His humility, compassion, and outstanding bedside manner, and genuine concern about my wife's condition, with the willingness to take time and listening to all of our questions, was so reassuring that it really made us feel confident in choosing him to perform her surgery. Denise had two prosthetic discs, Mobi-C's, inserted into her cervical spine between C7-C6, C6-C5 on 3/10/17. She has no more pain, and is feeling practically almost no post surgery discomfort!! We highly recommend Dr. Patrick Senatus, he is a great neurosurgeon with amazing skillful hands and an awesome human being.
Testimonial by Esther C. (Click To Read)
On February 3rd 2017 I had Spinal Surgery with Dr.Patrick Senatus. I have to say that it was the best decision I made, I'm very Grateful and Thankful. I've been suffering with lower back pain for many years, I was seen by many Doctors and I've tried everything from pain management, physical therapy, radio-frequency ablation and pain meds which gave me temporary relief. I was on schedule to have surgery with another neurosurgeon but I was referred to Neurosurgeon Dr. Patrick Senatus to get a 2nd opinion before my surgery. On my first appointment Dr. Senatus at his manhattan office, I met with a Distinguished, Knowledgeable,Caring Doctor. He explained to me everything I needed to know and what needed to be done to correct my worsening condition. He was very patient with me and answered all off my questions. I cancelled my prior surgery with the other doctor and that very said day I decided that Dr Patrick Senatus was going to be the Neurosurgeon to operate on me..my surgery was successful. His bedside manners are outstanding when he saw me in the hospital. I'm about 6 Weeks post op and I'm healing very well, I'm standing upright and able to walk pain free. He also has the best staff, Dee has been there to help and guide me along the way, I felt comfortable reaching out to her if I had any concerns. I would highly recommend Dr. Patrick Senatus. If you're looking for a Neurosurgeon, Who is professional, knowledgeable,competent and patient look no further. These are some of the qualities that distinguish him from the others..After so many years off constant lower back pain, I feel Blessed to have had Dr. Senatus make it possible for me to enjoy life again. Thank you Dr. Senatus.
Testimonial by Donna (Click To Read)
When I met Dr. Senatus I immediately I was taken by the genuine joy this man has in his soul. I mean it just radiates from him. Then I listened as he went over my MRI EMG results. He asked what treatment plan I had in mind and I indicated that as he was the Doctor I would follow his advice.
Dr. Senatus told me that he felt back surgery was really my only option as he felt physical therapy would make my condition worse and any further injections would be ineffective.
After talking to my husband, my family and praying on it I scheduled surgery. On December 2, 2016 Dr. Senatus performed an anterior lumbar interbody fusion at L3-4 and L4-L5 and inserted a lateral Medtronic plate at L4-L5 and an anterior plate at L4-L5.
It has now been 13 weeks since I have had my surgery and I am up and around with little to no difficulty. I was actually in the hospital for only a total of 36 hours.
While my daily activities are still limited to allow for a proper fusion, my back has hurt considerably less immediately the after surgery than it did before surgery. Each day I feel myself getting stronger.
I honestly believe that Dr. Senatus is not only a brilliant surgeon but he is also truly a man who just genuinely loves what he does: making people well.
Dr. Senatus has a passion for medicine that cannot be denied. Dr. Senatus also genuinely cares for his patients that cannot be denied.
Having back surgery is a very serious personal decision, and it is quite frightening as well. If there is any one person that is qualified and also cares deeply for the well being of his patients it is Dr. Patrick Senatus and his staff, especially Dee his patient care coordinator.
The office replies to messages and email promptly with nothing but the utmost care and professionalism. My experience is that I am always made to feel that I was the only patient although this is far from the truths. That is a rare find in the world of medicine today – one that is was truly blessed find.
Testimonial by Jackie (Click To Read)
Dr. Senatus is simply exceptional. He performed a triple cervical fusion on me last year, which fixed a failed fusion from a different surgeon. I have not felt this good in years!!! I was able to return to my yoga practice and have a baby!! Yet what makes Dr. Senatus so special goes beyond his surgical mastery and medical expertise. He is a caring doctor, and his big heart and generosity color every interaction. He takes the time to listen and explain so you never feel rushed, he explores all options, and by always putting the patient's needs first, makes you feel safe and well taken care of. And his work exceeds the promise of his words. Such genuine compassion is rare in a doctor, and I feel grateful to have found Dr. Senatus. I highly recommend him!!!
Jackie Stowers on October 17, 2016
Testimonial by Kenneth (Click to Read)
"In May, 2016 after having a second MRI done, Dr. Senatus informed and showed me that in reviewing the latest MRI, my back had encountered two other issues besides the herniated disk problem;  stenosis and scoliosis.  After receiving the necessary medical clearance from my cardiologist and primary doctors, my surgery was scheduled for June 3, 2016.
After five hours of surgery, the next day with the assistance of the hospital physical therapist, I was up and walking with a cane. Two days later I was released from the hospital. On July 11, 2016, five weeks after having surgery I took the subway and went back to work!
This was a major achievement as it was thought and suggested that I would need several months to recuperate.
Having seen my success, several co-workers asked me who performed my surgery and I have recommended and referred them to Dr. Patrick Senatus! I am very blessed and grateful for the surgical work that Dr. Senatus, his staff and team performed!  After almost two years of chronic back pain I am pain free!  In addition I wish to thank him for the consultation that I received from him prior and after my surgery!"
Again, I thank you Dr. Senatus!
Kenneth Williams on September 8, 2016
Testimonial by Darin (Click to Read)
Dear Dr. Senatus,
"I am compelled to write to you regarding my son Danny, on whom you performed a spinal fusion operation this past January.
Because of your compassionate spirit, brilliant mind and gifted hands, my son has back the life that God intended for him. For this, I am grateful beyond measure.
The agony and immobility Danny suffered before being placed into your care was heart-wrenching to all who love him. My wife and I endured many sleepless nights as we were sick with worry due to the severity of his pain and the question of whether or not he could be cured. The thought of operating on his spine was frightening. These concerns were eased when we found you, and are not just memories.
My family and I were more than impressed when you called us twice on New Year's Day to discuss moving forward with Danny's surgery. It was then that I knew he was in good care and things would be all right.
As I pen this note, Danny is pain free and back to enjoying life as any 27 year old should – thanks to you. I will forever be in your debt. Please know you will always have a friend in Amityville."
Respectfully Yours,
Darin P.
May, 2014
Testimonial by Robert (Click to read)
Dear Dr. Senatus,
Prior to my surgery, I was an active 55 year old father of two, who was an avid golfer, hockey player, cyclist, runner and triathlete. While training for my next triathlon I developed a pain across the top of my back between my shoulder blades that radiated down my right arm. Upon completing my triathlon, the pain became so intense on the drive home that I had to have my son drive the last hour. Over the next several weeks, and despite several visits to my primary care physician and prescriptions for muscle relaxants, pain medications, etc., the pain continued to intensify to the point I was unable to work and became incapacitated. Just walking around the house was almost impossible. My sister arranged an appointment with Dr. Senatus following an MRI of my spine.
My initial meeting with Dr. Senatus was extremely enlightening and I immediately made a connection with him. He informed me that I had a significant herniation of the disk between C7 – T1 in a manner that any patient would easily understand. Since I had already been through the usual initial therapy, Dr. Senatus recommended steroid injection therapy, which I underwent with no improvement. Given the severity of the injury and my extreme symptoms, Dr. Senatus recommended an ACDF which I agreed to immediately.
Dr. Senatus performed the ACDF at Rockville General Hospital and the results were immediate. The difference was dramatic; my pain was gone and was able to resume normal life activities within weeks. I returned to work in less than 6 weeks and resumed my athletic activities within months per Dr. Senatus's instructions. I have returned to working out, golfing, cycling, running and just recently completed my first triathlon since my surgery. Additionally, I have also finished my first Tough Mudder, not bad for an old man who had spine surgery.
I firmly believe this result would not have been possible without the exceptional skills of Dr. Senatus. I have spent the majority of my adult life as a Healthcare Executive and I can assure you it is extremely rare to find an exceptionally trained and talented neurosurgeon who has such an outstanding bedside manner and puts the patient's needs first. The entire staff is first-rate, assisting in every way possible including scheduling concerns and work documents. I would recommend Dr. Senatus without reservation to anyone requiring neurosurgical services. You could not do better. And for those of us who are vain, as Dr. Senatus would say, "I dare you to find the scar."
Sincerely,
Robert J. Conaway Jr.
July, 2014
Contact Us Today For Appointments!